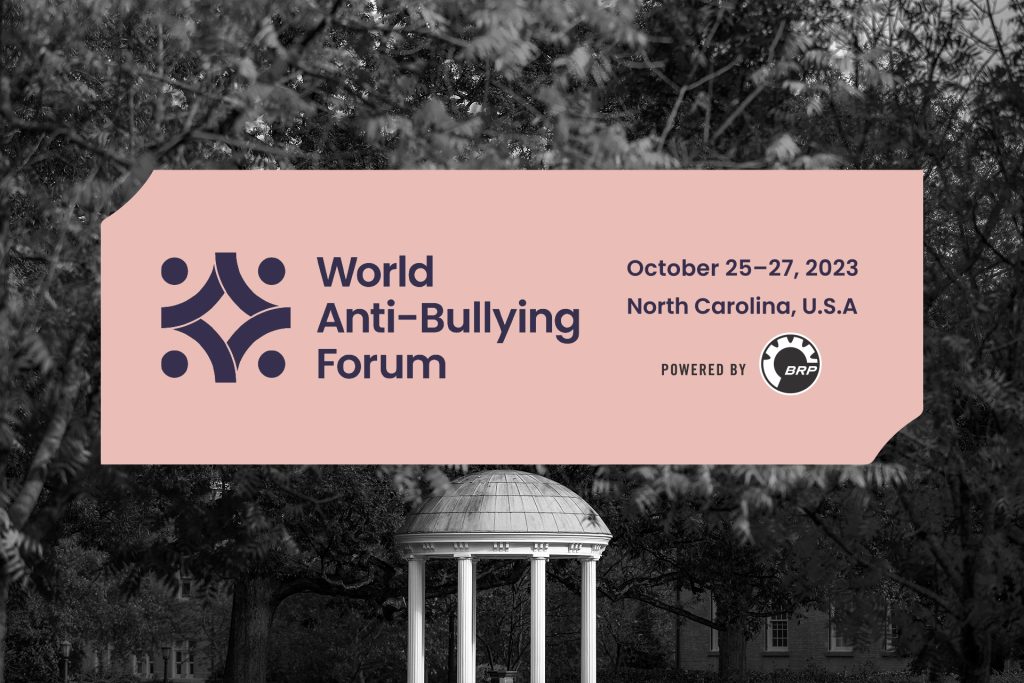 2023 World Anti-Bullying Forum is powered by BRP
For Immediate Release
2023 World Anti-Bullying Forum is powered by BRP
Aug. 30, 2023 — The World Anti-Bullying Forum (WABF) proudly announces BRP, a global leader in powersports products, propulsion systems and boats, as the presenting sponsor of its 2023 conference held Oct. 25-27 in Raleigh, North Carolina, U.S.A.
WABF 2023, powered by BRP, will convene an estimated 750-1,000 leading researchers, practitioners, policymakers, educators, youth and more at the Raleigh Convention Center as part of an ongoing dialogue in the work to prevent and end bullying around the world. This edition marks the first time the event will be held outside of Europe. Previous gatherings have taken place in Stockholm and Dublin.
"I am grateful for their support of WABF 2023 and am excited to welcome BRP team members as well as partners of their Ride Out Intimidation program to Raleigh and North Carolina," said Dorothy Espelage, Ph.D., William C. Friday Distinguished Professor of Education at the UNC School of Education and WABF 2023 organizer. 
"This presenting sponsorship enables WABF 2023 to expand a worldwide network of researchers, practitioners, policymakers and more — all committed to ending bullying. Based on previous forums, the connections created between attendees have been integral in the acceleration of research and efforts aimed at making children around the world safer and ensuring their well-being. BRP is one of a very select few corporate entities that is vested in anti-bullying work. I am proud to team up with BRP in pursuing our common goal to end bullying and intimidation'' Espelage added.
BRP, which is based in Valcourt, Quebec, Canada, and its Ride Out Intimidation program support and collaborate with a range of organizations around the world to foster and sustain a global network of partners that takes a multifaceted approach to ending intimidation. Partners include Ditch the Label, Born This Way Foundation, The Polar Academy among others and now includes WABF 2023.
"We team up with the World Anti-Bullying Forum with immense gratitude for everyone involved in our common quest to end intimidation committed to helping those affected by bullying," says Anne-Marie LaBerge, Chief Marketing Officer at BRP. "The WABF is an incredible platform that enables a truly global conversation about intimidation and ensures we are moving the needle on this pressing issue. And, at BRP, we are firm believers that together, experts and organizations, we can lead the way and make a difference in our communities."
WABF 2023 begins Wednesday, Oct. 25, at the Raleigh Convention Center in downtown Raleigh, North Carolina. Confirmed presentations include keynote addresses from world-renowned bullying researchers from six continents, remarks from Chairman of the Special Olympics International Board Tim Shriver, a UNESCO-led discussion focused on a worldwide definition of bullying, and a number of workshops, symposia, and poster sessions from a range of presenters.
About BRP
BRP Inc. is a global leader in the world of powersports products, propulsion systems and boats built on over 80 years of ingenuity and intensive consumer focus. Through its portfolio of industry-leading and distinctive brands featuring Ski-Doo and Lynx snowmobiles, Sea-Doo watercraft and pontoons, Can-Am on and off-road vehicles, Alumacraft and Quintrex boats, Manitou pontoons and Rotax marine propulsion systems as well as Rotax engines for karts and recreational aircraft, BRP unlocks exhilarating adventures and provides access to experiences across different playgrounds. The Company completes its lines of products with a dedicated parts, accessories and apparel portfolio to fully optimize the riding experience. Committed to growing responsibly, BRP is developing electric models for its existing product lines and exploring new low voltage and human assisted product categories. Headquartered in Quebec, Canada, BRP has annual sales of CA$10 billion from over 130 countries and a global workforce of close to 23,000 driven, resourceful people.
Ski-Doo, Lynx, Sea-Doo, Can-Am, Rotax, Alumacraft, Manitou, Quintrex, and the BRP logo are trademarks of Bombardier Recreational Products Inc. or its affiliates. All other trademarks are the property of their respective owners.
About the World Anti-Bullying Forum
The World Anti-Bullying Forum is a meeting place for researchers, policymakers and practitioners in the work against bullying. To end violence against and between children the Swedish NGO Friends initiated the World Anti-Bullying Forum in 2017. The World Anti-Bullying Forum is committed to upholding and promoting the rights of all children, as outlined in the Convention on the Rights of the Child. We believe in creating a safe and inclusive environment for all children, regardless of their sexual orientation, gender identity, religion, color, sex, language, political or other opinion, national, ethnic, or social origin, property, disability, birth, or other status. This means that all children have the right to enjoy their rights without discrimination of any kind. 
-30-
For media inquiries:
Morgan Ellis
UNC School of Education (organizing partner of WABF 2023)
morgan_ellis@unc.edu
Emilie Proulx
BRP
media@brp.com